DA PA Checker Free (Check 1000 URLs)
The DA PA checker tool allows users to assess a website's DA score, spam score, backlink profile, and authority. It also provides an estimate of a site's authority in search engines.
What is domain authority?

The Domain Authority is a "Moz Trust" statistic that is determined using a variety of parameters. It has a 100-point scale.
One of them is as follows:
Number of backlinks in total

Total number of distinct domains
In Moz's methodology, having a high domain authority score is equivalent to having an excellent backlink profile.
Similarly, if a website's domain authority score is poor, it may lack high-quality backlinks.
How to check domain authority?
Copy and paste URLs in the bulk DA PA checker. Next, hit the "Check Authority" button to look up DA PA with a spam score.
You can sort results by clicking on the values. After you finished checking, you can download the report in Excel and use it later.
Why should you use our DA PA checker tool?
Several free DA and PA checker software available on the internet allow you to verify your Moz rank. The best approach to assess a site's Moz Trust (site authority) is to use our free bulk DA checker.
Our DA PA tester was meticulously designed using the Moz logarithmic scale. Its characteristics are listed below.
Features of PA DA Checker
Raw Data – This option extracts URLs from raw data and checks DA of all domains.

URLs List – Paste clean URLs list to check website authority.

Spam Score - Our DA PA checker gives a result with a spam score

Page authority - It predicts a web page individually how good or bad it will rank on SERPs

IP address – It shows the exact IP address of a website and from where it's being managed. So, you can find if a group of websites is PBN or not.

Bulk DA Checker – Our DA checker allows users to check DA and PA of 500 domains at once.

Google Indexed Pages Checker – Along with da pa and spam score, our tool allows checking indexed pages on Google for each domain.

Download Excel Report – One-Click Excel file download option for checked URLs
What is a good Domain Authority (Moz DA) score?
Moz claims that there is no such thing as a "good" or "poor" domain authority score.
In general, the closer a website's DA PA is to 100, the higher its domain authority.
Similarly, the lower a website's DA score, the closer its score is to zero.
The chart below provides a broad knowledge of what constitutes a good authority score.
| Domain Authority | Level |
| --- | --- |
| 0-10 | Worst |
| 10-30 | Bad |
| 30-40 | Acceptable |
| 40-50 | Average |
| 50-60 | Good |
| 60-90 | Excellent |
| 90-100 | Ideal |
What exactly is a low Spam Score?
Moz measures spam using 17 flags (number of elements that may or may not enhance spam score). The ratio between the number of flags and the chance of spam is shown below.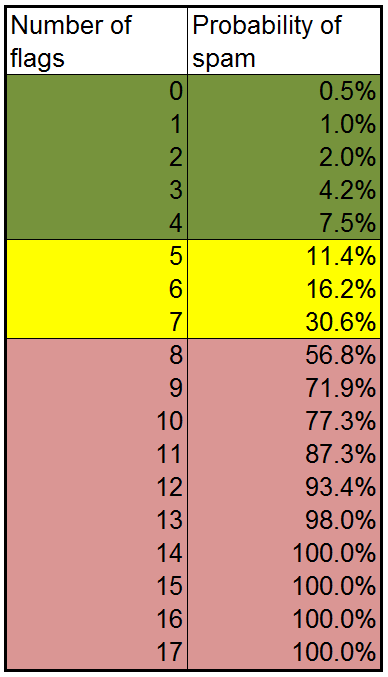 This is how Moz categorizes a bad or good spam score.
| | |
| --- | --- |
| Spam Score | Level |
| 1-30% | Low |
| 31-60% | Medium |
| 61-100% | High |
How to improve position on Google search engine?
Following are the critical factors that can improve your position on Google and other search engines. Note that these are only basic factors. Here is a detailed post on this topic.
Write High-Quality Content

Add External Links (Outbound Links)

Add Internal Links (Inbound Links)

Find Relevant Link Building Opportunities
FAQ
What is Da Pa checker?

DA PA checker tool helps users to analyze the DA score, spam score, backlinks profile, and authority of a website. It also gives an approximate idea of a site authority on the search engines.
Which tool is used to check the DA and PA?

Moz toolbar This feature allows users to check the DA and PA score of a website in real-time. It also tells the spam score of a site to prevent getting a link from that site
How do I check my spam score?

How do I check a site's Spam Score? Finding out a website's level of Spam Score is the easy part. All you have to do is input your website's URL into Moz's Open Site Explorer and it will instantly generate a mini report for you.